ABOUT
Candid is an independent family-owned and operated brewery that handcrafts small batches of beer right in the heart of Antigonish. 
Located in the former Casket News building on 88 College Street, head brewer Bryan Druhan and his partner Louise Brennan opened Candid in May 2021 with the aim of providing a friendly, cozy space for beer enthusiasts, novices and everybody in between.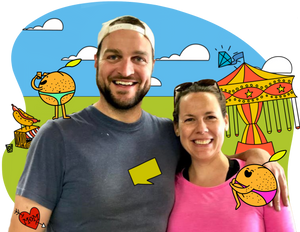 As Bryan (pictured here with Louise) said to At Home on the North Shore Magazine, "Beer is meant to be shared, and to have face-to-face conversations, candid conversations, amongst friends. It's also about being straightforward about beer; it doesn't have to be snobby or inaccessible."
Cheers to that! 
Come on now, grab some beer!

Laurie A.
People and Culture Lead
Fav Beer: Electro Lite
Map
88 College Street, Antigonish NS
Closed Monday
Tuesday 2pm-11pm
Wednesday 2pm-11pm
Thursday 2pm - midnight
Friday 2pm - midnight
Saturday 2pm - midnight
Sunday 2pm-10pm